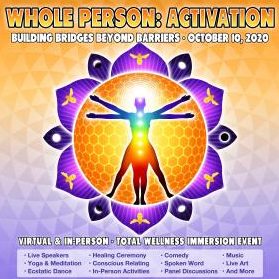 October 2020
The Whole Person Activation is a one-day event as a part of a launch series, designed to build a Whole Person Community all around the world.
The theme for the series is: Building Bridges Beyond Barriers
It will take place on Saturday, October 10, 2020
10/10/2020 – a day of ACTIVATION and CONNECTION
This launch series was developed to support people through these trying times and to help teach folks how to maintain their wholeness while experiencing even the most difficult moments. We believe in times of difficulty we should be coming together, not pulling apart. We understand how much it hurts to be masked and seperate, which is why we're bringing together top experts for an event designed to transform isolation and division into connection and compassion.
We have brought visionary leaders, musicians, artists, relational practitioners, healers, ceremonialists, sound healers, yoga & Qigong teachers, and much much more, from all over the world.
Our desire is to offer everyone who attends a delicious dish of conscious connection, tools to take home with them, and a community to plug into afterward if desired. We see you, and we want to support you to the greatness that we all are!
https://tickets.brightstarevents.com/event/whole-person-activation/tag/charleseisenstein
---
---