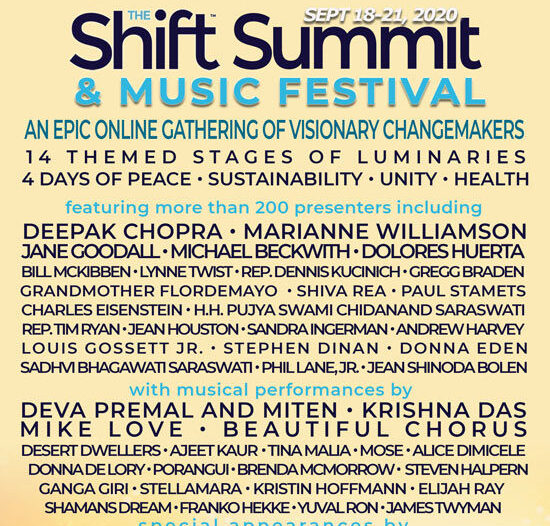 September 2020
The Shift Summit & Music Festival will present some of the wisest, most inspiring thought- leaders and musical artists leading the way to a peaceful, thriving world. The event will happen online over 4 days culminating on Sept 21 for the International Day of Peace. You are invited to participate from home for FREE! – Get your free pass at www.TheShiftSummit.com
As you know the world has been disrupted in 2020 in an unprecedented way. The global pandemic is leading us towards unprecedented challenges. Or could it be leading us to the greatest evolutionary leap forward we've ever taken as we redesign what human civilization looks like? 
How can we turn this time of crisis into the birthing period for a new phase of human history that is built on peace, sustainability, justice, health, and shared prosperity?  
How do we redesign our world to liberate more of humanity's potential to shine?
How can you make your contribution to a more harmonious, unified world?
The Shift Summit & Music Festival addresses these questions and more by convening a groundbreaking gathering of over 300 visionaries and artists from around the world to share a much-needed infusion of hope, positivity, and practical strategies for how we can shift our society and ourselves to fulfill the dream of a planet that truly works for all.
Featuring more than 200 presenters including:
Deepak Chopra • Marianne Williamson • Jane Goodall • Michael Beckwith • Dolores Huerta 
Jameela Jamil  • Bill McKibben • Rep. Dennis Kucinich • Gregg Braden • Grandmother Flordemayo • Shiva Rea • Charles Eisenstein • H.H. Pujya Swami Chidanand Saraswati • Rep. Tim Ryan • Jean Houston • Sandra Ingerman • Andrew Harvey • Louis Gossett Jr. • Stephen Dinan • Sadhvi Bhagawati Saraswati
With musical performances by:
Deva Premal and Miten • Krishna Das • Mike Love • Beautiful Chorus  • Desert Dwellers • Ajeet Kaur • Ayla Nereo  • Tina Malia • Mose • Donna De Lory • Porangui • Brenda McMorrow • Nattali Rize • Rickie Byars • Steven Halpern • Ganga Giri • DTO • Kristin Hoffmann and many more!
Special appearances by: 
Michael Franti & Rising Appalachia
So let's dance, laugh, open our hearts, and expand our minds together until we can SEE the future that we truly want and make it a reality! Free ticket holders will have the option to upgrade for special perks, features, and lifetime access to the content after the event is over. Get your FREE pass today!
---
---