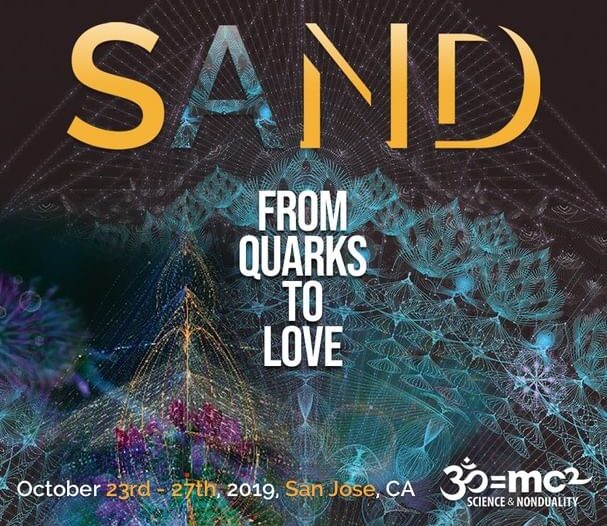 September 2019
Science & Non-Duality (SAND) Conference Description
For scientists, bonds and connections are essential to the working of the universe; for mystics, love is the ultimate principle. From the depths of physics to the delights of being human, relationships make life possible.
The mechanistic view of reality which sees the world as separate objects, separate individuals, communities and nations, has led to fragmentation in every aspect of life. We are now realizing that, from quarks to people, from gut bacteria to galaxies, it's all about interconnectedness, cooperation, and symbiosis.
This year, SAND will be bringing together some of the brightest minds in science, along with spiritual teachers from various traditions and artists, in a quest to expand and deepen our understanding and experience of our relational nature through the two lenses of science and spirituality. We will explore and integrate our human knowledge and experience around the theme of relationships. We will inquire into the many scales of relationship we are part of, from microbes and bacteria to mushrooms and trees, to people and families, to galaxies and black holes.
At the end of the day, no matter how complex the field of study becomes, the innate intelligence and reflective nature of the universe shines through. Love is what breathes life into the equations; Love is the field in which the quarks and human beings relate.
We will meet you there.
Event Website:
https://www.scienceandnonduality.com/
Event Location:
Hayes Mansion, San Jose California
200 Edenvale Ave
San Jose, CA
95136
Dates & Locations of My Talks:
OCT 27, 2019
9:25AM – 9:45AM
Hayes Ballroom
The Trap of Being Right
There is a special area of the Matrix reserved for people who think they have exited the Matrix. The answers to metaphysical questions—and indeed political questions, personal questions—are usually less important than the process that the question launches. Here we will explore the power of the question and the power of not-knowing, with special reference to science, politics, the maintenance of consensus reality, and the moments when love shines through.
OCT 27, 2019
11:05AM – 12:30PM
Hayes Ballroom
Panel: Climate Change, Grief and Interbeing
OCT 27, 2019
3:30PM – 4:15PM
Morgan Hill
The Guardian at the Threshold
What stands in the way to attain a higher level of creativity and effectiveness in service to Gaia? Many of us can sense a next step, and feel the desire to up our game. To get there, something will be gained and something will be lost. In this gathering, we will initiate and accelerate that process.
---
---