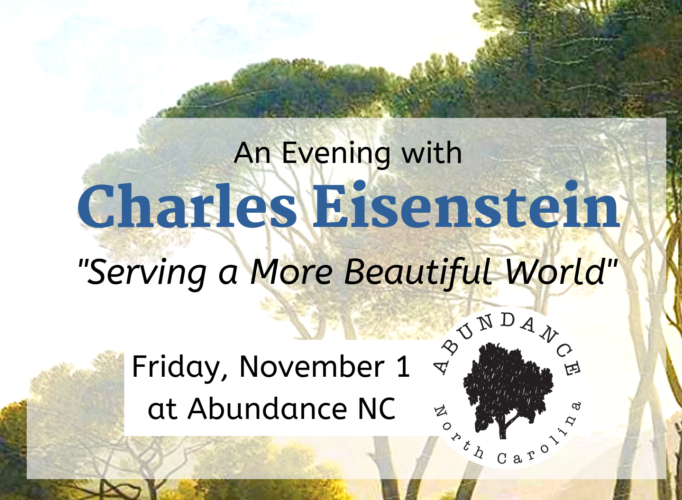 September 2019
Our perceptions shape our stories, our solutions, and our world. When our narratives and assumptions are unquestioned, we end up weaving threads of the problem into the changes we want to make. To exit these well-worn ruts…we must somehow see and question assumptions that we may not even be aware of. In other words, we need to "clear the field" on a personal level and a social-political level. We need to "unlearn" the things we assume we know.
Friday, November 1, 2019
An Evening with Charles Eisenstein – "Serving a More Beautiful World"
6:00-8:00 PM
@SMELT Art Gallery, 213 Lorax Lane, Pittsboro
Join us in welcoming Charles Eisenstein to Abundance NC for a special evening of learning and discussion around the spiritual work of our times, as we explore how we might navigate grief, endings, beauty amid the shifting consciousness emergent in our modern world.
Ticket are $45, available here:
https://www.eventbrite.com/e/an-evening-with-charles-eisenstein-serving-a-more-beautiful-world-tickets-62288789446
Saturday, November 2, 2019
4th Annual Death Faire
Noon – 6 PM
The Plant, 220 Lorax Lane Pittsboro, NC
A rich day of celebration and remembrance! This event as an actual fair…. there's a little something for everyone! Workshops. Vendors. DED Talks. Kid's Activities. Interactive Altar. Art by Smelt. Meditation. Fire Spinning. Live music. Food by Copeland Springs Farm Kitchen. Cash Bar at Fair Game. Candles everywhere. Dance and celebrate. This does not have to be a deep dive into the darkest corners of your soul. But if you want to go there, we welcome you! Come curious. Leave with peace of mind.
With Charles Eisenstein offering the Keynote Address!
Tickets are $15 ahead & $30 at the door; $5 for kids. Available here: https://www.eventbrite.com/e/death-faire-4th-annual-tickets-62323877395
---
---