October 2014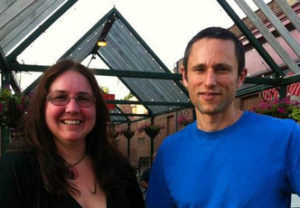 I'm never quite sure how to introduce Marie Goodwin. Sometimes it is "my way over-qualified assistant." Sometimes it is as my support person or my colleague. Sometimes she introduces herself with "I work for Charles." But the one we like best is "Chief plate spinner and external hard drive." I also like "support person" though, because she is such a tremendous support not only with the logistics of my work, but also as an intellectual resource and a source of wise advice.But let's cut to the chase. I write and speak a lot about gift culture, new economy, and how the defining narratives of our culture shape our relationships with each other. I write about it, but how do I apply these ideas in practice? Some questions might come to mind when you hear that Marie works for me. Some people think she works for free, and wonder whether I am using lofty notions of gift to justify what is really an exploitative economic relationship. Others might suspect that, when push comes to shove, I hire an employee just like everyone else, exploiting the surplus value of her labor, willfully oblivious to the attendant power dynamics of employment.
With Marie's agreement I would therefore like to describe how the money works in our relationship and how that came about, in hopes of illuminating one way to bring gift principles into the realm of work.
It all started three years ago when Sacred Economics was coming out. A prominent individual urged me to hire a publicist and recommended his own publicist to me as "the best in the business, someone with the perfect connections, experience, and intellect to get your work." So I called her up and interviewed her and she did seem highly competent. Then I asked her, "If money were not an issue at all, if, say, you were independently wealthy and did this work for free, would you still want to take me on as a client?" She replied, "Honestly, no. From what I've read I think you do great work and I'm happy to represent you, but fundamentally I'll be working for you – and I'll do a great job – because you are paying me."
I told her no thank you. I realized that I want someone to recommend my work only if they want to for real, and not because I'm paying them to. Otherwise, any promotion or publicity would be tainted with a kind of inauthenticity. And we are sick of the lies, the PR, the sales pitch. So I decided that I would only hire someone if they weren't doing it for the money.
Shortly thereafter, Marie came along. When we discussed the idea of her working with me, she insisted on working in the gift. At first, she was part of a small group of volunteers to help me deal with email and logistics. It soon became apparent that these tasks were interrelated and mostly needed to be done by one person. Over the course of a month or two she took on more and more of this work, and in gratitude I said, "Let me give you some money."
She said, "You really don't need to, I'm not doing this for money, I just believe in your work and want to help you."
I said, "But I want to." And every month since, I have wanted to, always in a spirit of gratitude.
Often it seems to me that I am paying her too little, and to her that I am paying her too much. Of course these terms only make sense in reference to the mainstream economy, in which, both of us know, she could make a lot more money given her intellect and qualifications. As could I. But both of us have chosen a different path. Her work for me fits in not only with her values, but with her life as a homeschooling mom, Transition Town activist, time bank founder and facilitator, and running a small herbal CSA.
I offer this as one of many possible models for bringing the spirit of the gift into the world of money. Its success so far is built on mutual trust and our common commitment to a purpose that is sacred to both of us. I'm not sure how well it would translate to other kinds of work relationships that don't have these qualities. Nonetheless, I think this kind of arrangement may become widespread as more and more people take up work that feels sacred to them. When we depend on each other to further that work, we naturally desire to take care of each other, our comrades.
---
---
---