August 2014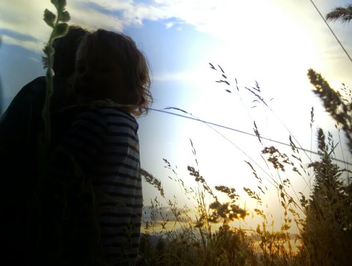 Here is one of those little things – tiny on the scale of the vast tragedies unfolding on Earth today – that got under my skin. A family living on wild land in Oregon in tipis, raising their daughter, is now threatened with eviction because the owners are forced to sell the land. With the transfer of the land, the family is now living there illegally. In the realm of the human agreements of the dominant culture, they are not welcome on the land.
But does the land have an opinion? In a worldview that holds land as a thing, property, that can be bought and sold, cut up and cut down, then of course not. A "thing" cannot extend or withhold welcome.
The three-year-old girl sees it otherwise. She looked at the post-holes for the gate that would keep them out, and she said, "The birds are sad about these holes that people dug, the birds want us to live here."
"Humph!" the cynic snorts, "are we to give credence to the childish fantasy of a little girl who is obviously projecting her own desires onto the birds?"
I think that our civilization will not survive unless we begin giving credence to such things, and develop the capacity to listen as closely as a three-year-old to the voice of the land.
That would be a huge shift; it would mean abandoning the anthropocentrism that arrogates to ourselves alone the qualities of a fully-developed self – things like a voice, like sadness, like welcome. It is an anthropocentrism that is, as far as I know, unique to the worldview of modernity. Other cultures fully recognized the beingness of the non-human world. For a long time we dismissed them as primitive; after all, our worldview must be superior because look at what our civilization has achieved. Today though, as the mounting ecological crisis subsumes these achievements, we begin to doubt whether our way of seeing is better after all. In growing helplessless, we begin to turn toward other ways.
The family is looking for allies, legal and otherwise, in the Ashland/Medford area.
---
---
---