Access a powerful sense of inner authority and self-trust. In food and diet…and beyond.
Course Content
Session Two: Displaced Desire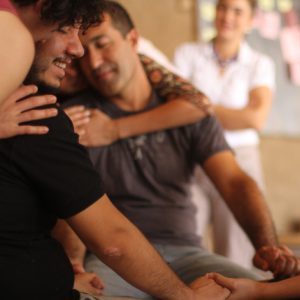 Can we really trust desire? Why does it so often seem that we want the things that harm ourselves and others?
Welcome back for Session Two, as we develop insight into the authentic needs that may be lying beneath secondary desires. Then we can meet them directly, and no longer displace our desire for adventure, intimacy, connection, or nourishment onto harmful substitutes. The intention of this session is to return to the basic truth of nature: it feels good to meet your needs.
From here on out, the sessions are segmented into two audio files. The first is the conceptual basis of the practices, a different way of thinking about food, nourishment, and choice. The second part offers embodied practices, and is key to integrating the concepts. It begins with a short meditation then concludes with some commentary on the "assignment" for the session. To get the most from this course, please listen to or download both audio files.
The learning journey sessions are offered in two parts, both of which are equally important. Please be sure listen to and/or download both:
Part One: Conceptual Discussion
Part Two: Meditation & Practice
Session "Assignment"
This session, we'll be working on extending the depth of our awareness…giving deep attention to the real desires underlying habits, compulsions or poor choices you'd like to shift away from.
But how do you know what the unmet need is? It isn't always obvious. Fortunately, nature has provided us a gateway. Remember: an unmet need hurts. And it is the pain, the hunger, the longing that will point to it. So, this isn't a mental process of figuring our the answer. It is more of a physical process, one of directing your attention to the hurting itself.
To do this homework, you'll have to be alert for moments when your craving, habit or compulsion is operating. Usually these are mindless moments, moments when you are on autopilot. Already, bringing attention to them can start changes in motion. So we are going to identify one very clearly beforehand. Step One: Identify the craving, compulsion, or habit you want to work with. Be as specific as you can, so that it is easier to notice throughout the course of your busy day. Step Two: Set an intention to be alert for the next time the craving, compulsion or habit arises. Picture the moment now. Picture yourself pausing and noticing it, perhaps taking a few deep breaths or whatever helps you linger in the awareness. Step Three: This should be done when the actual moment arises. You pause before eating the cookies, before mindlessly logging onto Facebook, or whatever you have chosen… You pause and you give attention to the feeling in your body, the hunger, the discomfort, the wanting, the craving. And just feel it. Step Four: Stay in that moment, without moving to the next, until you have a realization. Stay there in the spirit of the following questions:
"What hurts? What do I really want? What hurts?"
If you stay with a questions, an answer will come. Because even if it's beyond your power to figure out the answer, answers are magnetized to questions. The answer might not be direct. And it might not be the kind of answer you expect. But if you hold that space sincerely, something will come.
Often, because this is something beyond your given consciousness, the answer will be a little bit surprising. It will not usually be a formula. A question like that is a kind of a prayer that invites an answer that is from beyond your consciousness, maybe even beyond yourself. So if you you hold that question, and you hold that question and you ask deeply and you worry the question, you work the question, you search for the answer…. Well, you will never find the answer, but the answer will find you. You have to search for it to find it. The search is a prayer. It says, "Yeah, I really want to know."
If you have serious food issues or addictions or maybe if you've tried hard to change more subtle habits of ego, you've probably already asked and worried that question. That isn't what this homework assignment is about. It is about opening the space for the answer to come in. I'm assuming you've already put in your dues as far as struggle is concerned. So for step four, you don't need to be asking in words or wrestling with a question. You are simply holding attention on the wanting. You hold it until something happens. It could be a realization, or it could be that the desire simply passes. If it is the latter, then too bad! You'll have to try again next time the craving arises!
One more thing: this will possibly result in the compulsive behavior stopping or changing. That is not the goal, but it might be a desirable side effect. Do not set that as a goal. You are still allowed, after doing this exercise, to eat those cookies! You are still allowed to flip on that television.
Your homework is simply to hold attention on the wanting until you have a realization. You'll recognize an authentic realization by a feeling of wonder, or a deep internal stirring, or like your brain is repatterning itself. This is not easy homework and it is very powerful.
Discussion Forum
We've moved all course discussions onto our online community, A New and Ancient Story. To join the discussion forum, go to the landing page and read the introduction and posting guidelines. Then, if those resonate, apply to join (all serious applicants are accepted). Once you are a member, find the discussion group for this course among the course forums on the left menu.