January 2016
---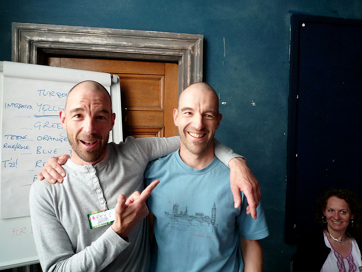 This conversation I recorded with Rex Brangwyn was originally part of my online program Masculinity: A New Story. The outpouring of gratitude, insight, and stories it provoked from participants has prompted me to share it more widely. You may not agree with everything he says, but he is a sincere explorer who radiates love, compassion, and honesty.
Rex Brangwyn is a practitioner of psychosexual somatics, which uses sexuality as a gateway to physical, emotional, and psychological healing. In this conversation we talk about the incredible transformative power of female sexuality, and the role of the man (or other holder of masculine energy) in facilitating it. Rex says, "Most women have no idea the places they can go. The men aren't around who can hold the space…. the erotic spaces a woman can go are truly astounding. And I think for a lot of unprepared men, they wouldn't know what to do. They would probably run a mile."
Rex describes the masculine quality of presence necessary for this journey – a gentle holding, respect, humility, and directionality. Cultivating these qualities is part of what he calls the building of erotic intelligence, which is a gateway to connecting with who we really are. It is a demanding path; as Rex says, "If we are to be present to women's erotic opening, we have to be open to their rage. And if we are to be open to their rage, we have to be open to ours. We have to start this empathetic journey with women, with ourselves, and with the planet."
In the last half hour we explore a related topic: initiation. Drawing on his work with the organization A Band of Brothers, Rex discusses the importance of building a multigenerational community for young men to be initiated into, as an ongoing support for a way of being that lasts a lifetime.If you'd like to subscribe to the entire series, you can do that here: Masculinity: A New Story.
---
---